Upscale
Upholstery Services
If you have quality furniture that is worn, outdated, or no longer your style, try new upholstery rather than new furniture!
Go and price new pieces of the same quality. It won't take you long to discover that the cost is three, four, even five times more than you paid when you purchased your pieces. Why spend that kind of money when you can have craftsman-grade reupholstery for a fraction of the cost?
Quality Craftsmanship
Rebuilding and upholstering are our passions. We take them very seriously because they are important to you, our customer. We have the experience and the tools to reupholster your project the right way.
Quality Materials
We use only the best upholstery materials. We have several suppliers, and are happy to sit down with you and help you make the right selection so your treasured piece will last another generation.
Easy Estimates
If you bring us a picture and a rough measurement of the length, width, and height, we can give you a fairly accurate estimate for your reupholstery project.
To find out more about how to buy or sell top-quality used furniture, or have your current furniture upholstered, or inquire about having your boat seating redone or a new boat cover made, fill out the form on our
 

contact page

.
We offer many other helpful upholstery-related services:
Foam replacement
Cushion replacement
Upholstery / fabric repair
Pickup and delivery
Request / wish list notifications
Credit / debit cards accepted
6-month interest-free financing
Available Colors / Fabrics
We offer a wide variety of upholstery options (both in manufacturers, and styles) for our upholstery work. We have a very good working relationship with Sunbrella, Greenhouse Fabrics and Charlotte Fabircs.
To see the Sunbrella collection of colors and materials, CLICK HERE. PLEASE NOTE: We carry a substantial inventory of Sunbrella® materials and colors, so there's a good chance that we have in stock exactly what you are looking for!  Sunbrella® provides a 10-year warranty on all of their materials. View their warranty HERE.
To see the Greenhouse Fabrics Collection, CLICK HERE.
To see the Charlotte Fabrics Collection, CLICK HERE.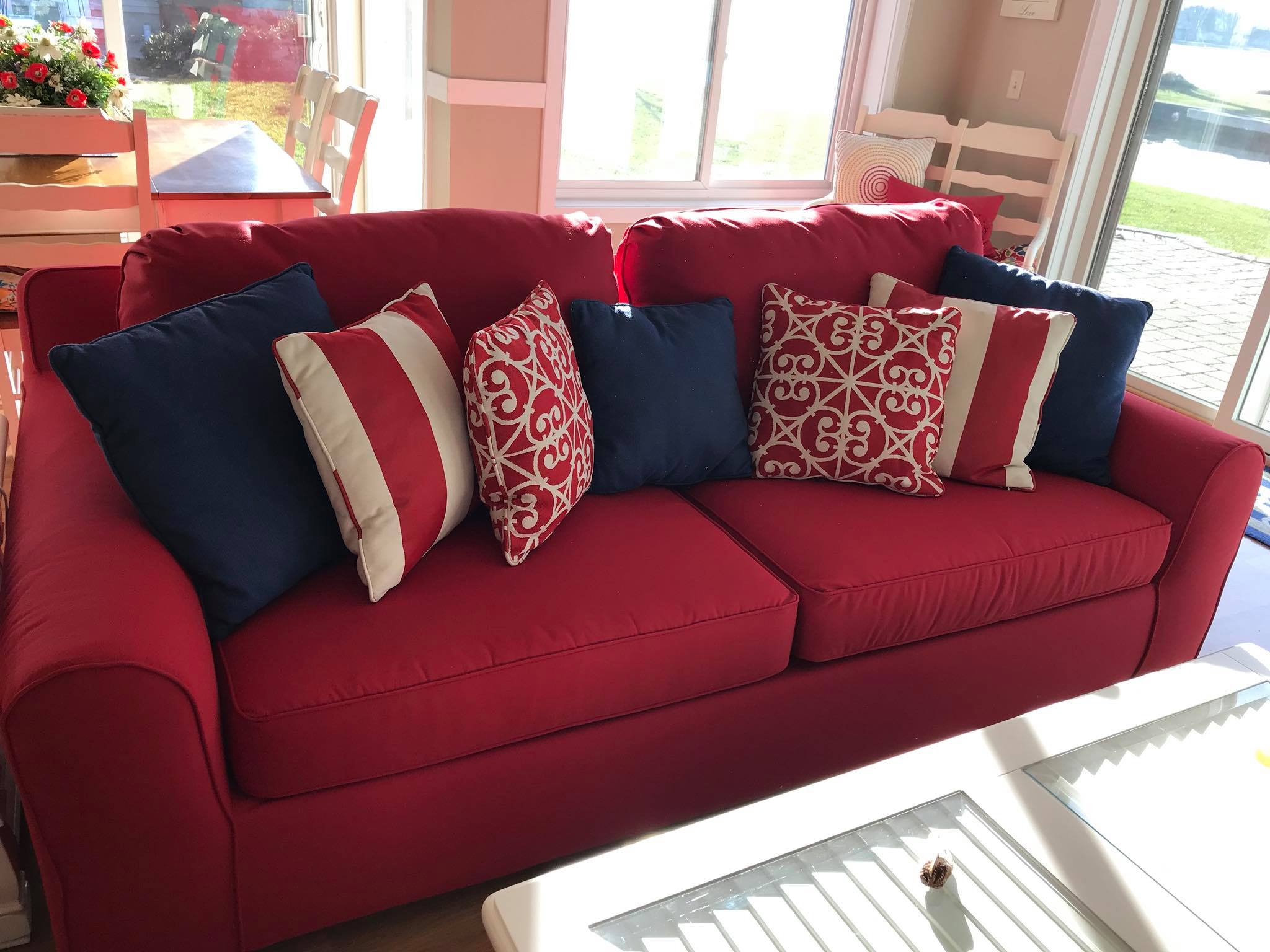 Why Tangibles for reupholstery services?
Quality Craftsmanship.
Quality Materials.
Our staff upholsterer with 30 years of experience uses only the best materials and methods, to ensure that your quality furniture looks and performs even better than when it was new.
We reupholster everything from indoor chairs and sofas to outdoor cushions and commercial pieces.
We have hundreds of sample fabrics. You can purchase material from our stock, we can special order the fabric you want from our samples, or you can supply your own.
We can replace the foam in cushions, make you new custom cushions, or create window seat cushions for your home.
We repair and retie springs.
We are happy to assist you with your upholstery choices.
Use the yardage chart below to estimate how much material your pieces(s) will require.
High upscale quality at great prices! Look at Tangibles before you buy new! Outstanding customer service and delivery!
Store Location
111 South Harrison Street
North Webster, IN 46555